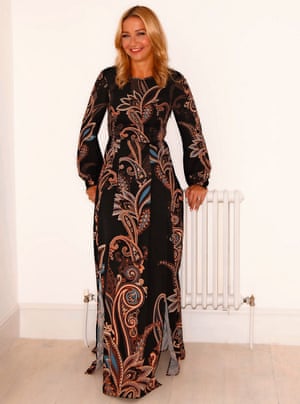 This year, there's another thing to add to the long list of things I miss about the summer holidays: wearing dresses. Not from an aesthetic standpoint, so much as from sheer laziness: separates have dominated fashion for so long that I had forgotten the blissful ease of one-step dressing, the satisfaction of pulling a dress over your head and slipping into your shoes; of not having to fuss over whether to tuck in or half-tuck your shirt, or to worry about too-short tops that show your knickers when you bend over.
In hindsight, the years after Roland Mouret's first Galaxy dress in 2006 were a golden era. All you had to do was find a simple, tailored dress in a block colour – tight in the places that suited, and with a bit of a drape in the places that didn't – and you were dressed from office to pub to cinema, and on-trend.
Since the ascent earlier this decade of the snappily named feminine-minimal-utilitarian androgyny, separates have been it. Style has demanded a mastery of shirting and tailoring, and of the codes on when a sweater should be tucked into a skirt's waistband and when shirt tails should hang free. The only truly fabulous dresses have been either too hot (and therefore only for evening) or too wet (fit for holiday, not business) to be truly useful. The wearing of day dresses – the block-colour, tailored kind – has become non-U. Let's be honest: if you bumped into Kate Moss, she would totally call you a basic bitch.
So what I need now is a smart dress that I can wear in the daytime without looking too much like a daytime TV presenter. You need a dress that's a little bit Bloomsbury, cerebral, but original and slightly offbeat. It must have long sleeves and a long skirt, and to balance that you need a bit of skin showing at the throat and a semi-fitted torso. I'm not going to pretend it is either as useful or as easy to wear as the Galaxy, but pickings are a little slimmer right now. The dress you are looking for is halfway between Lorraine Kelly and Virginia Woolf. At least no one can call that basic.
• Jess wears dress, £160, warehouse.co.uk
Styling: Melanie Wilkinson. Hair and makeup: Laurence Close at Carol Hayes Management