According to the NFL, 70 percent of fans use a second screen while watching football. It's easy to understand why: mobile devices—and the apps that run on them—give us easy access to player stats and analysis, provide interactive features to supplement the big-screen experience, and offer a convenient way to communicate with other fans watching the game.

We've rounded up seven of the best second-screen apps to enhance your football viewing. Take them for a spin when the season kicks off later this week, and we're sure you'll be reaching for them along with your remote every Thursday and Sunday until the end of Super Bowl 50.
NFL Mobile
The NFL seems as determined to conquer the second screen as effectively as they did the TV screen, offering a dizzying array of official apps. NFL Mobile, revamped for the 2015 season, remains the league's digital flagship.
This free app gives you everything you'd expect: news, real-time scoring, video highlights, radio broadcasts, customizable team alerts, and push notifications. This year, the league has added access to Game Pass, its on-demand video subscription service. If you're willing to pay $100 and don't mind watching games after they've aired, you can replay any of the season's 256 matchups on your mobile device.
NFL Mobile offers Verizon customers a few extra perks with a More Everything plan. You get 24/7 access to the NFL Network on your phone, and you can live stream all nationally broadcast games on that channel as well as those on CBS, NBC, Fox, and ESPN.
If you miss a game for whatever reason, NFL Mobile's at-a-glance recap is indispensable for catching up.
(iOS, Android, Windows Phone)
NFL Now
If the live game broadcasts aren't enough to sate your appetite for gridiron action, this app is a must have. Launched last season, NFL Now is a hub for the league's troves of video: game highlights, press conferences, player interviews, analysis, and more. Select your favorite teams and players, and the app curates your own personalized video stream of existing content and original video produced just for this digital network. Best of all, your stream adapts to your behavior and recalibrates based on the videos you watch, "like," or skip.
The basic app is free, but for $2 a month, you get an ad-free experience plus access to premium NFL video content including shows like Hard Knocks and A Football Life, as well as treasures from the NFL Films vault.
(iOS, Android, Windows, Firefox, Roku, Xbox, Apple TV)
NFL Connect
Watching your team take on its hated rivals can really stoke your competitive fire. If you want to channel that energy into more than screaming at your screen, consider downloading NFL Connect. This free app puts you in a head-to-head competition with friends and rivals during a live game. You win by predicting and connecting in-game events such as touchdowns, penalties, and sacks.
To participate in this Bingo-like battle, you and your opponent choose a matchup—the Sept. 10 Steelers vs. Patriots game, for example. Each of you is given a game board of 16 randomly generated events that will likely happen during the football game. The goal is to be the first to connect a string of four consecutive events. "Connecting" gets you on the leader board where you're ranked with other top players. As a bonus, a built-in chat feature lets you talk trash throughout your match.
Unlike other second-screen apps that can frequently distract you from game, NFL Connect keeps you more engaged, because success requires you to stay focused on the on-field action so you can react and swap game tiles as plays unfold. Just don't spike your phone when you score.
(iOS, Android, and Windows)
FanCred
From the Washington Redskins'Hogettes to the denizens of the Oakland Raiders' Black Hole, football fans have unique ways of showing their devotion to their team. FanCredis free app that helps you harness that passion and share it with other fans.
FanCred is social network that works like any other, but because it's designed for sports fans, your followers are genuinely interested in your check-ins to Soldier Field and your latest fantasy football trades.
Create a profile and select your favorite team and you'll receive a feed containing news, scores, and comments from other fans. If the prospect of socializing with your sports tribe isn't enough, FanCredrecently signed the Washington Redskins and Carolina Panthers as partners, promising an influx of premium content and the opportunity to build relationships with your favorite teams.
Note this network is not for lurkers. You'll also receive a FanCred Score, ranking you from 1 to 100 based on how much you post and interact with other users, so make sure you get in the game.
(iOS and Android)
SportsYapper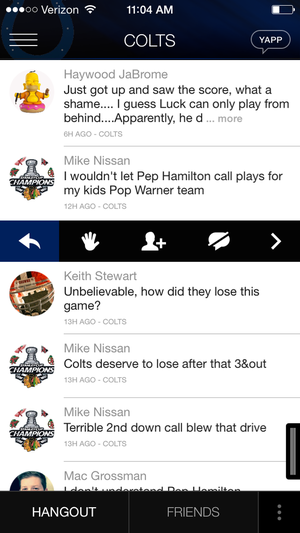 Venting your football frustrations to the general population on Facebook or Twitter is unsatisfying for you and downright annoying for your friends and followers. SportsYapper offers a more welcoming forum where your opinions and rants will always find a sympathetic ear.
Essentially, SportsYapper creates chat rooms around specific teams and live games where you can hang out and "yapp" with other fans. You get 300 characters to comment, which should be plenty to express your joy over your team's last-second win or to debate a ref's controversial call. When you have a meeting of the minds with another fan, you can give them a "high five," the SportsYapper equivalent of a Facebook "like."
Beyond sports chatter, the free app lets you upload and search photos of game gatherings, and it will alert you when a game is about to start or when a friend logs in.
(iOS and Android)
ESPN Fantasy Football
If you're an ESPN fantasy football owner, you have more than bragging right on the line with each game. TheESPN Fantasy Football app provides every tool you need to stay on top of your squad all season long.
This free app gives you full access to your ESPN fantasy team, letting you start, bench, add, drop, trade, and waive players and otherwise manage your roster in the lead-up to game day. It also provides the most comprehensive collection of stats and analysis you'll find outside of an NFL war room.
While you're glued to the tube during games, Fantasycast keeps you updated on all your fantasy players' scoring in real time, while push notifications alert you to injuries, trades, and other player news.
Even if you've never stepped foot on a football field, this app could make you the Bill Belichick of your office league.
(iOS, Android)
NFL Homegating
Tailgating is as much a fixture of football as cheerleaders and halftime shows. But you shouldn't have to miss the fun just because you can't make the game. Fortunately, this app helps you bring the party from the parking lot to your living room.
Like Martha Stewart in a Jets jersey, NFL Homegating offers everything you need to plan your game-day festivities. Just add your favorite team and select a game from their schedule and you're prompted to create an invite, select recipes, and assemble a shopping list. The recipes, which were created by such renowned chefs as Marc Payero and Josiah Citrin, put a gourmet spin on game-time favorites and are divided into categories such as Sideline Snacks and Touchdown Entrees.The app also provides a selection of cooking and party tip videos and social media features so can share favorite recipes.
While the focus is on food, this app also keeps track of RSVPs and lets you add party pictures and videos. Extra point: It collects game highlights in case you were too busy entertaining to watch the game.