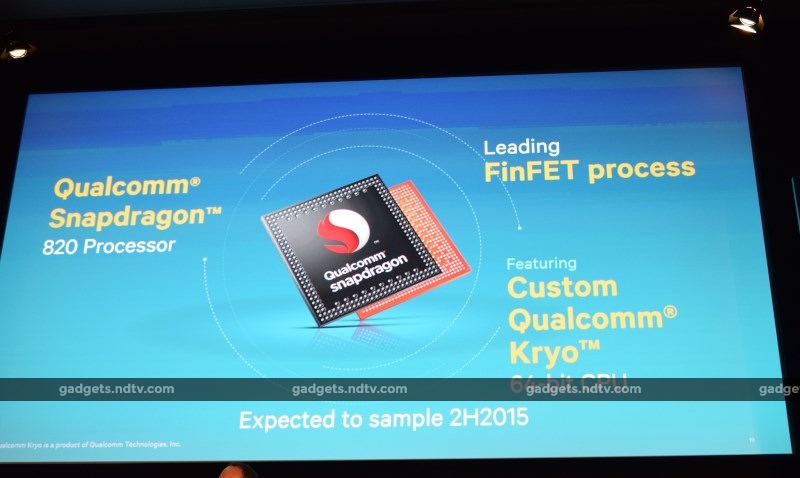 Qualcomm has released new details about the brand new Kryo CPU it is has designed as part of its upcoming flagship Snapdragon 820 SoC (System-on-a-Chip). First announced at the Mobile World Congress trade show in March 2015, Kryo will mark a return to custom CPU design for Qualcomm, which has relied on standard ARM Cortex CPUs for its most recent products.
The company has slowly been releasing details of the various components of its upcoming Snapdragon 820, starting with the integrated Adreno 5-series GPUs. Information about the Hexagon 680 DSP and a hardware security layer called Smart Protect has also been made public. Now, Qualcomm seems ready to divulge information about the CPU itself.
All mobile CPUs must aim to deliver higher performance and lower power consumption in today's highly demanding smartphone market. Qualcomm is promising 2x improvements on both fronts compared to the beleaguered Snapdragon 810, while remaining cool enough to enable smartphone manufacturers to design ever-thinner models.
The first-generation Kryo in the Snapdragon 820 will be a quad-core, 64-bit CPU and will be manufactured on a modern 14nm FinFET process. It will reach speeds of up to 2.2GHz. It is designed to be tightly integrated with the Adreno 530 GPU and Hexagon 680 DSP as well as other special-purpose logic such as the camera image processor and video decode blocks, in what the company calls a heterogenous computing arrangement. This allows each specialised component to take on tasks suitable to it while maintaining cohesion across the board.
To enable that, Qualcomm has developed what it calls the Symphony System Manager, which will oversee how tasks are scheduled and allocated to each component of the SoC. This should lead to better performance compared to systems that force all tasks to run on the same general hardware or shuttle data between discrete components. Being able to activate and shut down different logic areas on demand should also positively affect power consumption and heat dissipation.
One of the killer applications that the Snapdragon 820 will enable is Qualcomm's Zeroth platform, a machine-learning algorithm designed to enable new context-aware applications. One example shown already such is a photography app that can change settings based on conditions and subjects it detects, while other potential uses could include security apps that recognise and authenticate users based on subtle cues, and handwriting recognition that learns individual styles and patterns. Qualcomm also talks about virtual reality, computer vision, and advanced imaging.
While the Snapdragon 820 will undoubtedly find its way into the next generation of flagship smartphones and tablets from a variety of manufacturers, Qualcomm's ambitions extend into other segments, such as automotive and embedded commercial applications. Variants of the Kryo CPU will be applied to other Snapdragon SoCs, bringing premium features lower and lower down the product stack over time. Devices based on the Snapdragon 820 should be available in late 2015 or early 2016