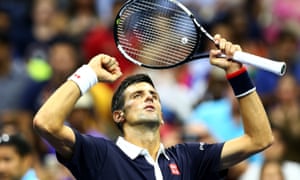 Gathering himself after getting pushed around by an opponent with an unconventional style, Novak Djokovic reached the US Open semi-finals for the ninth consecutive year with a 6-1, 3-6, 6-3, 7-6 (7-2) victory over 18th-seeded Feliciano Lopez.
With the night session match suddenly tied at a set apiece, the world No1 tore off his shirt as he headed to the sideline. He sat, halfheartedly tried to smash his racket, then began screaming.
It was not the first time, nor likely to be the last, that Djokovic has let out a little emotion during a match. "It was frustrating at times," the Serb said, "but this is the quarter-finals of a grand slam. This is what you expect."
For all of his success getting to the closing days of the US Open, though, Djokovic has one championship to show for it, in 2011. His other eight major titles came at either the Australian Open or Wimbledon.
Still, Djokovic is certainly consistent: he has now made it to the semi-finals at 22 of the past 23 major tournaments. "I hope I can keep on going," he said.
On Friday, he will take on defending champion Marin Cilic, who was unfazed by wasting a big lead or match points while holding on to beat 19th-seeded Jo-Wilfried Tsonga of France 6-4, 6-4, 3-6, 6-7 (7-3), 6-4 earlier on Tuesday.
Lopez's loss dropped him to 0-4 in grand slam quarter-finals; this was his first time that far in New York.
He is a 33-year-old left-hander who is that rare player these days who likes to use serve-and-volley tactics, doing so 41 times against Djokovic, winning the point 28 times. Djokovic, a brilliant baseliner, tried serve-and-volleying twice.
Lopez's only break of the match came in the second set, and he made it count. Serving out that set, he saved a break point, then ended the game with an ace and pounded his chest. That's when Djokovic was soon in his chair, bare-chested and bellowing.
Yet 40 minutes later, Djokovic was back in control, serving out the second set at love and capping it with a forehand winner.